Book Review: Last Year's Photographs by Nobuyoshi Araki
Reviewed by John Sypal
Mathematically, a set of photographs can only be sequenced in so many different ways, yet somehow Nobuyoshi Araki is able to buck the odds and pick the perfect thread every time. Last Year's Photographs, a recent addition to Araki's ever-growing library of books (the "Arakilography," if you will) shares a backstory of rediscovery similar to that of 2011's Theater of Love; that is, it's another forgotten group of photographs that has been brought back to the surface to shed light on the early era of a great artist. This kind of story is charming, and what's wonderful is that pictures are even better. Despite being comprised of a mere thirty-eight plates, the flow of Last Year's Photographs cleverly works as a record of a ramble through Tokyo, and in its flow, these photos, taken sometime in 1975, act as waypoints - images simply strung along the path on which they were taken. Some forty years later, one could follow the same streets of the city today with this book in hand.
The book opens with a photograph of a train platform in Akihabara station. From here Araki travels by train to Ginza, and after a few photographs, he is on back on the subway headed northeast to Kita-Senju, where his wife, Yoko Araki, was born and raised. On foot he cuts south to nearby Minami-Senju, then goes little further down a street which takes him into his own working-class neighborhood of Minowa in east Tokyo. Following a quick lunch - he snaps a couple finishing up their soba lunch, the man looking off to the side - Araki waits again on another station platform and catches another train - this time to the neighborhood of Kagurazaka, where his small office and darkroom were located at the time. After a few photos along the shop-lined hill for which the area is named, he heads to the next location. While all of the other transitions in the book are illustrated with literal images of transportation, a pair of butterflies floating above act as the jump into the next section: Tokyo's vibrant Shinjuku district. Shinjuku is a hub of commuters, shopping, and nightlife. Araki would explore Shinjuku nights a decade later with Tokyo Lucky Hole, his exhausting documentation of rowdy pre-obscenity-law Kabukicho, Tokyo's red light district, but for now (1975), his camera is levelled straight at the streets of a Sunday afternoon in the city.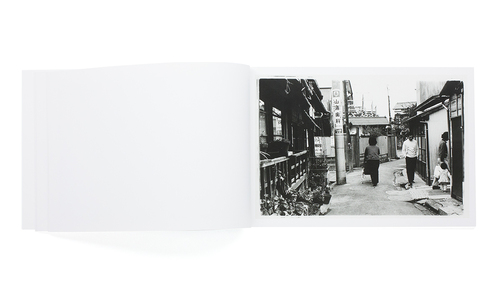 The streets are a lit stage populated by ambling couples and others going about their days, figures and faces unknowingly scooped up by Araki's wide-angle lens for later use. In the backgrounds we find references to other coordinates from Araki's world: Kinokuniya Bookstore, for example, where Sentimental Journey was first put on the shelves, a sign for DUG, his favorite jazz bar. The final quarter of the book takes the viewer to a cheap theme park in Asakusa, and afterward to an all-girl revue with short-skirted cancan girls (make no mistake: although his street scenes show a naked city, there is no nudity within these pages). Finally, leaving the theater, Araki is back on the streets, then onto another subway platform, and finally back on the train headed home.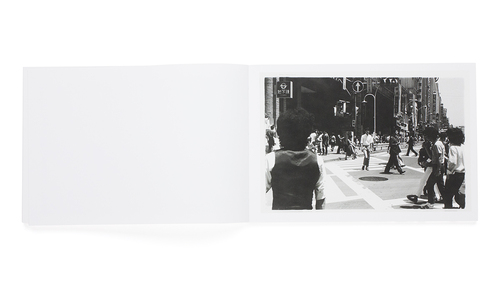 One might suppose Last Year's Photographs to be atypical for Araki due to its focus on streets instead of women. However, this is not the case, as there are certainly others; Tokyo, In Autumn (1984), Longing for Tokyo (1999) and Tokyo Summer Story (2003) come to mind. Nor is this the only Araki book with a lost-and-found backstory, as Theater of Love (2011) attests. Although Araki is arguably as swift, clever, and lucid as any of street photography's "greats," the approach taken in this book is slightly different. Many of Araki's contemporaries in the mid-seventies were roaming the streets with pockets full of black and white film and cameras fitted with wide-angle lenses, in search of "decisive moments" - rare pictures which encapsulate the formal visual ideals of Henri Cartier Bresson or Garry Winogrand in attempting to deal with visual coincidences that border on the improbable. In the west, Robert Capa's oft-quoted maxim equating getting closer to making better pictures held sway. Certainly those familiar with the work of Nobuyoshi Araki know that getting close to anything has never been a problem for him, but with few exceptions, Last Year's Photographs focuses not on the interactions between particular individuals but rather on the streets as a whole. If at first glance the pictures appear to lack the action or form typically idealized in street photography, viewers who look a little harder will be rewarded with captivating details. Within a single frame it's easy to spot several things that would have excited Robert Frank or Winogrand, but Araki was doing something else: working with the feeling of the city instead of simply recording its characters. Making a plain picture is easy; making a memorable one with a Winogrand "punch" a bit harder, but taking the Atget route is perhaps the most difficult of all: pulling from reality a picture that amplifies the banal to the point that it evokes the sublime. From this a feeling is generated. This is what the city both looks like but also how, to him, it felt. A consistent fact about Nobuyoshi Araki is this: his perception, heightened through the viewfinder of his camera, allows for a truly original sensibility to come through. The reward is for the eyes of the viewer, even if it takes over forty years to come to light.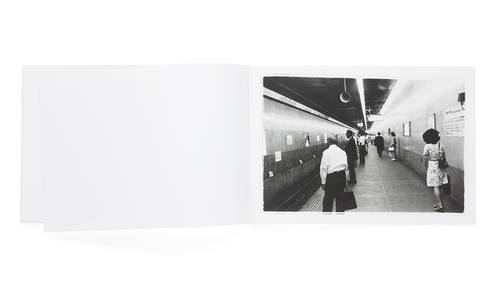 Last Year's Photographs is available both in softcover and in a hardcover edition presented in a box that cleverly mimics the Mitsubishi photo paper box in which the prints were originally stored. Both editions include all thirty-eight images from the original stack of prints.