Showa Trilogy|Kazuyoshi Usui
Japanese photographer Kazuyoshi Usui began his Showa project series in the early 2000s, in the midst of Japan's Heisei era. Following the photobooks "Showa 88" and "Showa 92", Usui recently released "Showa 96," the final entry in the trilogy.
Usui's series imagines a world in which Japan's Showa era did not end in 1989 but continued on and on, until the present day…
For shashasha, Usui wrote the following text outlining his fascination with the Showa era and his view of its "strength of survival."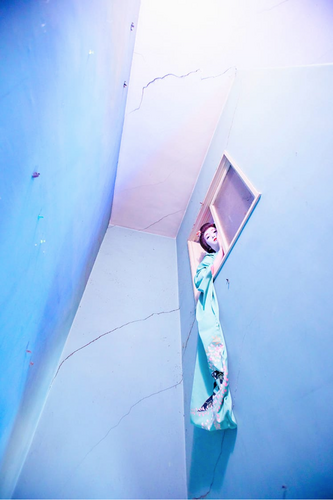 The Aesthetics of Indecency
My use of the word "Showa" in the series' title should not be misunderstood as interest of mine in exploiting feelings of nostalgia. I created a daydream, on my own terms, with the use of simple tools that are incapable of capturing anything but reality—cameras.
"Showa" to me means "the power to survive."
What would the world look like if Japan's Showa era (1926–1989) were still alive today? That's the fantasy I allowed myself to indulge in three photobooks, the third and final entry having been published at the very end of Japan's Heisei era (1989–2019).
Please allow me to invoke a bit of "kotodama" here (the Japanese belief that a strange power resides in the meaning of words). The Heisei era—written with the two Japanese characters for "peace" and "to become"—truly has become what it promised – an era of peace and quiet. Thanks to the achievements of those who came before us, we in Japan were able to experience a safe period of relative stability.
At the same time, however, the undeniable truth is that behind the abundance of the Heisei era was a constant feeling of unease and uncertainty, a questioning whether "this is truly enough", if "this is how things should go". The era lacked any rite of passages to herald in adulthood. I, too, was one of those who had to experience these feelings of uncertainty.
Here, we open a hole in the ground and bravely jump in, to arrive in a parallel world where Showa never ended and Heisei never happened. Without a doubt, this world, too, experiences natural disasters beyond human comprehension. The question is whether the disasters were able to disperse the Showa-typical "strength to survive". That is the key theme I set myself for this project.
The first photobook, "Showa 88", was photographed in Osaka's poor Nishinari and Tobita Shinchi districts, in Kyoto's Gojo-Rakuen area, in Chiba Prefecture's Sakae City and in a few other locations. These are places that brim and vibrate with an almost painful lust for life, and they are riddled with strong, primary colors everywhere in the cityscape, colors just waiting to attack you from the corner of your eye.
"To outlive" – it is an almost bizarre concept of a word. In addition to the "living" bit, there is a certain grey nuance to it, a part that does not care differentiate between white and black. There's a human complexity there that knows more shades than 1 and 0, like a computer. And there is the industrious world of travelling artists and freak shows, the world of mediums, and the sound of the shamisen – these are all part of the background of the era. The consoling ritual of the "puppet marriage" up north in Aomori, too, is built upon this greyzone.
The Showa era to me appears like a safe era of broad coexistence, a time when distinctions like "truth or lie" or "illusion or reality" did not ultimately matter as much.
Such greyzones have the smell of humanity to them, and that is what I tried to pursue in my series. The indecency that exists here feels like a sublime aesthetic that was born from sticking to my own beliefs.
For "Showa 92," I photographed a performance of the "Otorakougyousha," said to be Japan's last freak show, at the Hanazono Shrine. A photograph I shot of a snake on that day became the cover image of the book. On the day the photograph was taken, a phonecall by a certain animal protection group ushered in the final curtain for this show, which had been going for so many years. (The show is playing again, in a hut provided by the Otorakougyousha.)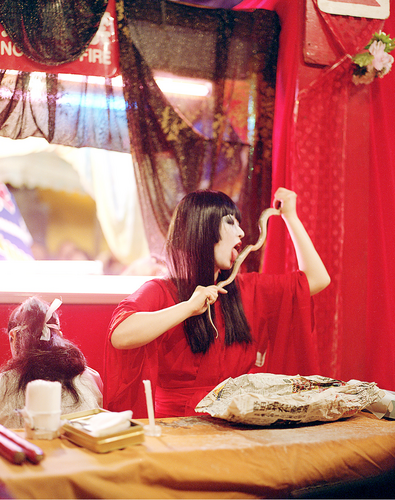 Photographing the trilogy lead me to visit the following places:
A travelling circus's hut in Osaka's Nishinari district, Tobita Shinchi, Tsuruhashi, Kyoto's Gojo-Rakuen, Sakaemachi in Chiba Prefecture, a road in Otsuchi in Iwate, a tanker in Kamaishi in Iwate, a sex museum in Saga, a dog fight in Shizuoka, Kawakurasainokawarajizoson temple in Goshogawara in Aomori, Osorezan, Shinjuku's Nichome, Kabukicho, a freak show in Hanazono shrine, a shamisen performance of former yakuza gangsters in Okinawa, Hyakkendana area in Shibuya, Ueno Zoo, a haunted house production company in Saga, a rice field planting festival in Ise, the New National Stadium.
With the Olympic Games waiting to take place next year, Japan is cleaning itself up and prepares to enter a new stage. And as Japan changes into something new, it will abandon certain subcultures in the process.
The subcultures it will leave behind were once created in order to survive, by those who, a long time ago, had no place in Japan's rigid society of samurais, farmers, artisans and merchants. While Japan became a more equal (and flatter) society in the Heisei era, these cultures have managed to survive, albeit in a neutralized state. Now, however, they are slowly starting to disappear. I am proud that I could record, in photographs, a proof of their strength to outlive, like Shoichi Ozawa recorded them in sound.
One thing I wanted to preserve about these places is that they all had flowers in them. Wherever there are humans, you will also find flowers. And wherever there are plastic flowers doused in cheap oil, you will find also find the most beautiful flowers imaginable. The warmth and and earnest hospitality that greeted you everywhere in these places was a truly remarkable, deeply human achievement. (For the cover of "Showa 88," I chose the photo of a flower I shot in Osaka's Tobita Shinchi area.)
Many things have influenced me and my photography. Before anyone, I have to thank the painter Kuniyoshi Kaneko. I was lucky enough to learn many things from him personally as I grew up. In his atelier (where nights were turned into days and days into nights), I encountered the color palettes of Kiyokata Kaburagi and Settai Komura, and I was struck by the angles of Kazuo Miyagawa. And I think it was there that I first learned of John Waters' "good bad taste." A great many things here helped me grow, inspired me, and ultimately left their mark on the Showa series. The concept of opposing beauties, for example, lies deep somewhere at the foundation of the series. Both pairs of dichotomies like "indecency and the sublime," "terror and the comical," "Eastern beauty and Western beauty," "Life and Death" embedded themselves into each of my images.
Kuniyoshi Kaneko's mansion, a symbol of Japan's underground culture since the 1960s, is threatened with disappearance now, following the death of its owner. For "Showa 96," I have recorded this place according to my own personal method.
Ideally, I would like each reader to browse the Showa series as a trilogy, with all three books next to each other. While each individual book contains an unfolding "horizontal axis", a new "vertical axis" begins to develop when the three books are viewed together. The beautiful design of the books themselves is thanks to the work of designer Satoshi Machiguchi.
In my trilogy, I followed the smell of humanity, that almost repugnant odor, with the camera as my tool. I relied on my own sense of smell; I was lead to encounter and photograph all these people, and at times I could recreate the stories I felt in the places I visited.
Using photography, a contradictory medium that weaves truths and lies, I tried to capture the heat emitted when people's projected images and their true selfs clash and grind. Perhaps I did it to fill in the gaps of my own dissatisfaction with the Heisei era.
Even if Japan—bleached, sterilized—emits much less of that human smell these days, I will still continue to hunt after it with my camera.
This year, the Heisei era came to an end. But Showa still lives on.
Perhaps it has to.
With the new Reiwa era before me
Kazuyoshi Usui