Pop up shop at Case TOKYO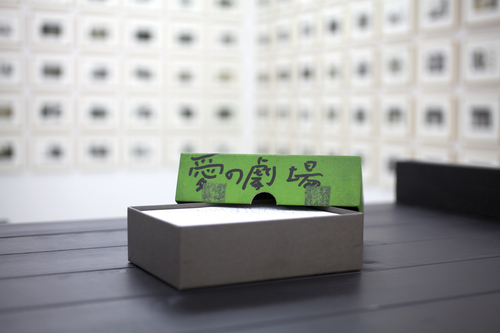 For our customers in Tokyo -
between November 4 and 18, we will set up a small pop-up shop at CASE Gallery in Shibuya.
For the pop-up shop, we have prepared a variety of books usually not available via our webstore - from the last few copies of sold-out popular books to out-of-print first editions (e.g. Tsutomo Yamagata's "Ten Disciples") and signed copies (e.g. Kikuji Kawada's "Remote Past a Memoir: 1951-1966") to rarities like a vintage multi-volume collection of Nobuyoshi Araki's works.
Details
Location: CASE TOKYO, Ibis Building B1, Shibuya 2-17-3 (150-0022 Tokyo, Japan)
Duration: November 4 - November 18
Related Event
CASE TOKYO, the venue of shashasha's pop-up shop, will hold a discussion event on November 4th regarding the exhibition Nobuyoshi Araki Theater of Love currently held at CASE Gallery.
Photography critic Kenji Takazawa (Asahi Camera, Aperture Magazine) and photographer John Sypal (Tokyo Camera Style) will be in a conversation about Araki's compelling series Theater of Love.
Discussion: About Nobuyoshi Araki's Theater of Love, with Kenji Takazawa and John Sypal
Date & Time: November 4 (Sat) 2017 / Begin: 17:00
Venue: #B1, 2-17-3 Shibuya, Shibuya-ku, Tokyo, 150-0002 Japan
Capacity: 20 chairs (first-come basis) + standing room
Admission: ¥500(to be paid at the venue)
For reservations & inquiries please contact
CASE TOKYO
Email: [email protected]
Tel: 03-6452-6705
---
Kenji Takazawa
Kenji Takazawa (b. 1968 in Gunma) is a photo critic and writer. BA in Literature at Waseda University. Takazawa's critical texts, interviews and essays have been featured in numerous magazines such as Asahi Camera, Shashin Gahou, Bijutsu Techo, Geijutsu Shincho, Aperture and IMA. He edited the publication "LEICA EYE" by Yutaka Takanashi, provided supervision for the Japanese version of the book "Study of PHOTO". In 2017, Takazawa co-authored "Provocative Photo History" together with photographer Osamu Kanemura.
John Sypal
John Sypal (b. 1979 in Nebraska, US) is a photographer based in Tokyo. Sypal moved to Japan after graduating from University of Nebraska in 2003. Exhibitions include The Difference Between, Gaijin Like Me and Zuisha vol.1 – 16. In 2015, London-based publisher Thames & Hudson published Sypal's book Tokyo Camera Style. Sypal is a maniac follower of Araki's works.