Zen Foto Gallery 10 Year Anniversary Campaign
Japanese photography publisher and exhibition space Zen Foto Gallery nears its 10th anniversary in September and celebrates together with shashasha. In this article, founder Mark Pearson looks back on Zen Foto's beginnings and early exhibitions of (mostly) Chinese artists.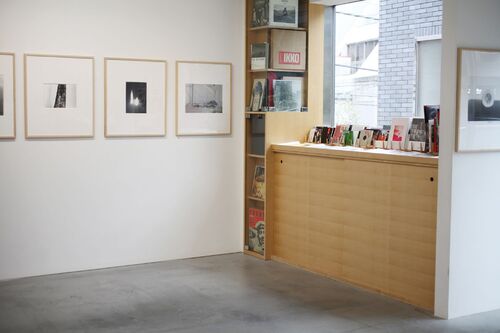 Zen Foto Gallery - Chinese Photography | 2009-2011
When I started Zen Foto, I had determined that we would show photography from around the East Asian region, and specifically from China and Japan. In our first year we produced nine exhibitions themed around China – eight by Chinese artists and one from Japan of classic works taken in China.
Liu Zheng - Dream Shock (September 2009)
Yang Yankang - "Buddhism in Tibet" (October 2009)
Muge - "Go Home" (December 2009)
Liu Ke - "Still Lake" (February 2010)
Wang Ningde - "Some Days" (March 2010)
Chin-chin Wu "A Face-to-Face with Chin-chin Wu" (May 2010)
Kazuo Kitai "Kazuo Kitai in China, 1973" (June 2010)
Zhang Yuming "The Ancient Towers" (September 2010)
Han Chao "Rhapsody for my Wretched Little Universe" (November 2010)
In this article I discuss how each exhibitions came about and my impressions of working with each artist
1. Liu Zheng - Dream Shock
September 2009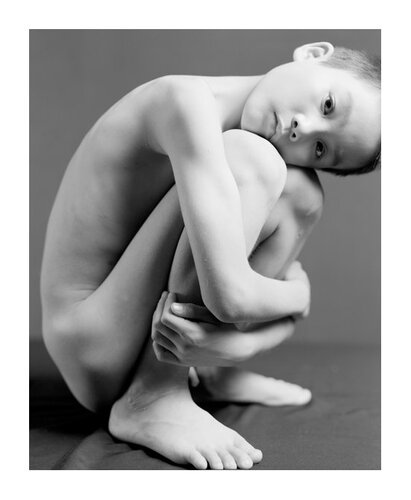 I first met Liu Zheng on a visit to his studio in Beijing. I think it was in 2008. After visiting China a couple of times, I had told Japanese gallerist Taka Ishii about the vibrant Chinese art scene and he wanted to come to see for himself. Together, he and IWe visited several artists on that trip, including Wang Qingsong, Wang Ningde and Liu Zheng. I would go on to show the works of Wang Ningde and Liu Zheng at Zen Foto. A few years earlier, during my time at Place M, I had come across a copy of "The Chinese" by Liu Zheng. His thrilling portraits of his countrymen had made the most powerful impression on me, so I was fascinated to meet Liu in his studio. He was clearly a deep thinker and was trying to push the boundaries of expression and technique. When it came to open Zen Foto Gallery, Liu was my first choice and I was surprised and delighted that he accepted my invitation.
At that stage we had not discussed which works to show. I had assumed that it would be "The Chinese" but a couple of months before the exhibition was due to open he sent us the images for "Dream Shock". They were certainly a shock to me. A collection of portraits, many nudes, including some reenacted scenes of mythology and film. One of them depicted a scene from a film in which Japanese soldiers have committed atrocities against the local Chinese population. The entire series provocatively lives up to its title.
I invited Liu Zheng to visit Tokyo for his exhibition. It was his first visit to Japan. He came to my house directly from the airport and I well recall his initial reactions to being in Tokyo –- the neatness of the streets, the clear air and the good taste of Japanese rice. He later told me that he had long been prejudiced against the Japanese, but that this visit had completely changed his view of the country.
I had decided to make small publications as a record of our exhibitions. We were doing everything for the first time. Amanda, who worked with me at Zen Foto from the very beginning, valiantly solved all the practical problems, including design, creating the files suitable for printing, finding a printer in Taiwan and negotiating the printing budget. Despite both of us being absolute beginners in publishing, it was thanks to her that we actually managed to produce a booklet to accompany the exhibition.
And so, with our first exhibition, we were on our way.
2. Yang Yankang - "Buddhism in Tibet"
October 2009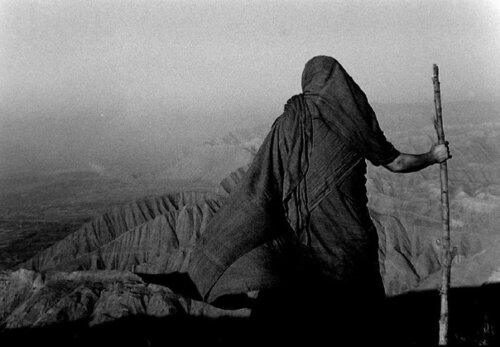 It was on my first visit to the 798 Art district of Beijing that I first saw Yang's work in the "798 Photo Gallery". The works are majestic portraits of the people and the lands. Yang is an artist who spends year after year in a region, getting to know it and the people living there, which enables him to feel part of the place. The subjects do not appear to notice the presence of the photographer. In the West, when we think of Tibet we tend to describe the country with its present-day borders, but Tibet traditionally was a much larger region which included large parts of modern China and spread, as far as Sichuan, Yunnan, Qinghai and Gansu. Yang's photographs were taken across this broad area.
Although created in recent years, it feels as though these photographs could have been taken at any time in the past centuries or even millenia. We observe a simplicity and purity of life, without the burdens of material possessions and the constraints of modern technology. Rather than dour fanatics, the monks live lives filled with joy. We see them resting, dancing, laughing and playing with whatever is at hand. A counterpoint to the easy complacency of our assumption that we have evolved to a higher place, with our technology and material possessions. Not all is easy. While the men in Yang's photographs are often laughing and playing, the women are seen working or carrying burdens.
I did not meet Yang, but we interacted from time to time in organising the exhibition, ordering prints and introducing his work to others.
3. Muge - "Go Home"
December 2009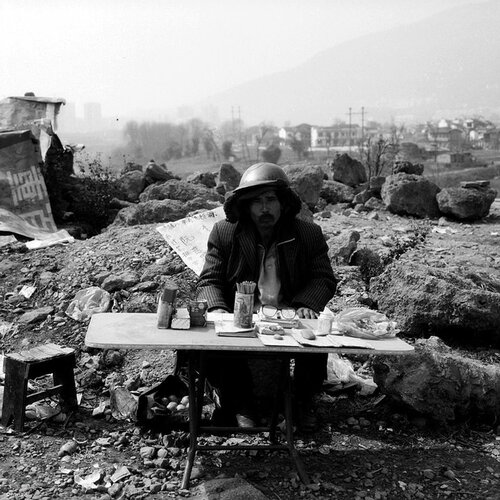 In the years before setting up Zen Foto, I got to know Dan Abbe, a great enthusiast for photography who was living in Tokyo then. Dan told me of a young Chinese photographer he had encountered on Flickr. On a visit to Beijing I got in touch with Muge who flew from Chengdu to meet me in Beijing.
Muge had been born and raised in a town along the Yangtse River closer to Chongqing, and had returned to photograph the lives of people alongside the riverbanks.
Muge used a medium-format camera and black-and-white film to make the photographs for "Go Home". The photographs show the relative simplicity, yet strangeness of life along the riverbanks. The backdrop of the river gives a sense of great space. Here we see the local people coming down to the river for various purposes, some working, some playing and others for a bit of peace and quiet. Yet we see enormous structures looming from the mists, even dwarfing the individuals and attempting to overcome the great river. In looking at the photographs we are also aware that the river has been dammed by the Three Gorges project, which has raised the water level and submerged many towns and villages for hundreds of kilometers upstream. Ultimately it is a story of individuals overwhelmed by twin massive forces – the river and the Chinese society which in turn is seeking to dominate the natural world.
Still, Muge's work is not depressing. People retain their humanity, and there is plenty of gentleness and humour in his portraits of his countrymen. It is a commentary on humanity containing hope.
We published a thin volume of the photographs contained in the exhibition. In those days we sent the data off to the Taiwanese printer without being able to colour- proof the printing. The contrast came out higher than we had expected.
Muge's prints were of moderate quality in those days, as he was inexperienced in producing silver-gelatin prints, and the material available in China was expensive and of variable quality. He initially produced inkjet prints, but then switched to silver gelatin, but even these had to be reprinted several times before he achieved even a minimum standard. It took quite a lot of to-and-fro over many years for Muge to develop the quality of his prints.
Muge was always keen and ambitious to promote and sell his work. The young Chinese photographers had some great advantages over the Japanese, in that there was much more interest from Europe and the US in China than there was  in the younger Japanese artists.
A few years later we worked again with Muge on the first edition and an exhibition  of "Ash".
4. Liu Ke - "Still Lake"
February 2010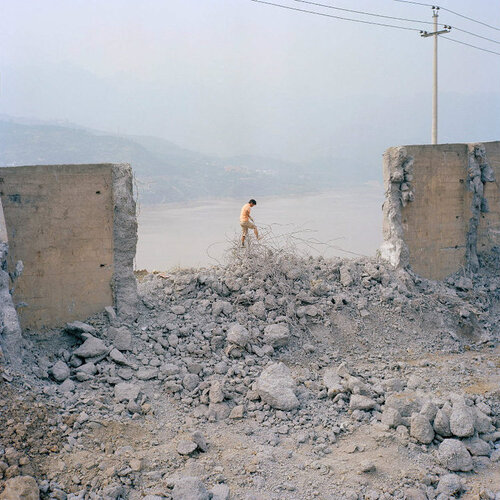 Muge was a member of a group of photographers based out of Chengdu. Adou was one of the more experienced of the group, which also included Lu Dan, Zhang Xiao and Feng Li. Liu Ke was one of the younger members. He seemed quieter, more contemplative. His work was taken in similar places and around the same time as Muge`s, and I thought it an interesting contrast, so we invited him to follow Muge and we produced a small booklet.
Where Muge would stand in front of a subject and photograph from a frontal view, Liu Ke had a more subtle approach, observing subjects from a distance or from the side. He also captured the feeling of vast spaces around the river. Liu Ke worked in colour, which can be a more difficult medium.
Liu Ke chose not to visit Tokyo during the exhibition, which slightly disappointed me, after the pleasure of inviting Liu Zheng and Muge to see their exhibitions in Zen Foto. After the exhibition, whereas Muge remained ambitious and driven, Liu Ke seemed to remain aloof. He did not follow up "Some Days" with another major series. However, in recent years he has been more active on Instagram with a beautiful series of work. I hope we can work together again.  
5. Wang Ningde - "Some Days"
March 2010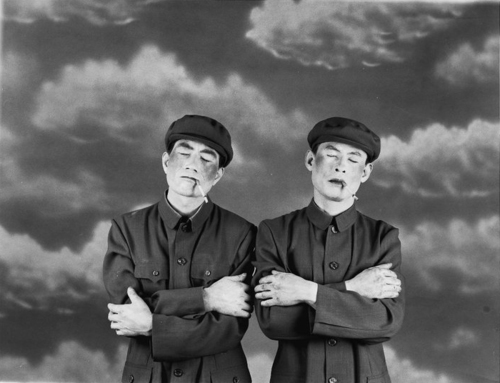 I had visited the studio of Wang Ningde on the trip to Beijing with Taka Ishii and saw his enigmatic and beautiful work "Some Days". A few works of Wang were included in a Chinese photography collection I had acquired from Etsuro Ishihara of Zeit-Foto Gallery, which was also a pioneer in introducing Chinese photography in Tokyo.
Wang had spent many years on this series. Each photograph is unmistakably part of "Some Days", drawing on a number of motifs throughout, including the people in communist-era clothing with closed eyes in front of painted cloudy backgrounds. It suggests a dream state from which the people have yet to wake up.
We produced a thin volume of the photographs included in the exhibition, representing about half of the series. I wrote a short introduction to the work, which was quite a challenge. But I was very happy when Wang told me he liked the text and asked whether he might use it himself.
Wang Ningde went on to develop his artistic practise well beyond photography. He produced a memorable installation in a large gallery in Beijing and then went on to create beautiful mixed-media works. Although our paths have diverged in recent years, I remember the times working together and spending time with each other in Tokyo and Beijing with great fondness.
6. Chin-chin Wu "A Face-to-Face with Chin-chin Wu"
May 2010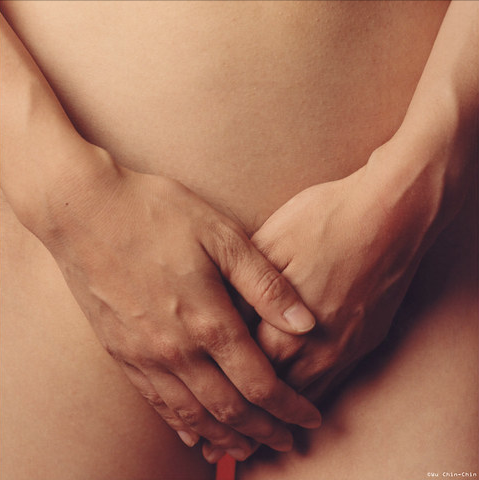 I met Chin-Chin Wu at an art fair in Shanghai. She told me about her work photographing female genitalia, but that she was not able to show it publically. This seemed to be a challenge worth facing, and I proposed an exhibition in Tokyo.
Again, we planned to make a slim catalogue of the works on display. Unfortunately these were seized by Japanese customs on shipment from the Taiwanese printer and despite our best efforts they were all destroyed, except for a few copies that had been retained by the printer.
Some months later the works were published by a German publisher. Of course, it was ridiculous that we could not bring the catalogues into Japan. Far more gratuitously explicit images are sold openly in every convenience store and bookshop in Japan or available freely on DVD or online. It was an expensive loss, but there was some pyrrhic satisfaction gained from exposing the hypocrisy of the customs regulations.
7. Kazuo Kitai "Kazuo Kitai in China, 1973"
June 2010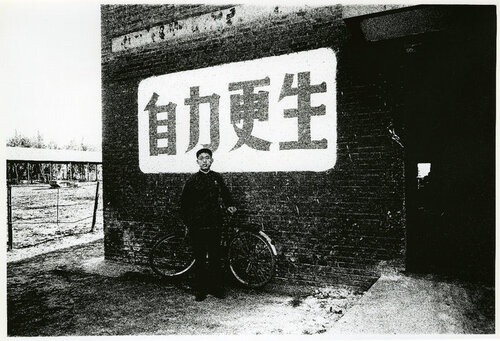 I had encountered Kazuo Kitai once or twice in connection with Zeit-Foto Salon, but got to know him mainly on a trip to Shanghai to view the exhibition of Ihei Kimura prints in the Shanghai Art Museum, organised by Etsuro Ishihara. I had agreed to acquire the complete set on completion of the Shanghai exhibition.
Kitai told me something of his career to date. He had started out as a rebellious art student in the 1960s, dropping out of school within the first year, when he decided to photograph the demonstrations of students and radicals. His first intention was to make a series of colour photographs inspired by French New Wave cinema, but he had run out of money and had to print his first, self-published book "Teiko" ("Resistance") in black and white. He went on to effectively join the resistance movements of the 1960s as photographer on the side of the demonstrators and later lived among the Sanrizuka protesters opposing compulsory land purchases and evictions in order to build Narita Airport. While remaining fiercely independent and political throughout these 6-7 years, he became disillusioned with protest and began his search for another mode of expression. He had been noticed by Ihei Kimura who invited Kitai to join him with a group of around ten photographers on a journey through China in 1973. When he told me of his unpublished photographs of China from 1973, I immediately suggested publishing this work and I was delighted that he enthusiastically accepted my proposal.
Kitai was probably one of the youngest of the group accompanying Kimura but seemed to thrive on the opportunity while some of the older photographers grumbled. Kitai told me that he felt it was some of his best work, and at a pivotal time in his artistic development, just as he was transitioning away from the political work of "Resistance" and "Sanrizuka", which had been his main work since 1964. After 1973 he would change direction and explore the byways of Japan in his monumental "To the Villages". Kimura would die the next year, while Kitai was trying to publish Kimura's "Paris" under the Norasha imprint. It would virtually bankrupt Kitai. However, Kitai was to receive the first ever Kimura Ihei Award, which was to become the most prestigious photography award for Japanese photographers and is still going strong.
I was attracted to Kitai's China 1973 works partly, of course, due to my own keen interest in China and its history, and because of the quality of Kitai's work. The publication we made was far from perfect but we made quite an effort to raise the quality of the printing and binding, and we benefited much from the kind advice of Kunihiro Takahashi of Tosei Gallery and Publishing, one of the masters of printing quality in Japan.
This books probably represents the end of the first stage of Zen Foto's existence. We had published several modest monographs of great photography by Chinese contemporary photographers and then a classic work on China by one of the great Japanese photographers of the 20th century.
Having established Zen Foto and begun publishing and exhibiting, we had started to make contacts with more Japanese photographers, and the next phase would explore the work of some of the younger Japanese photographers.
8. Zhang Yuming "The Ancient Towers"
September 2010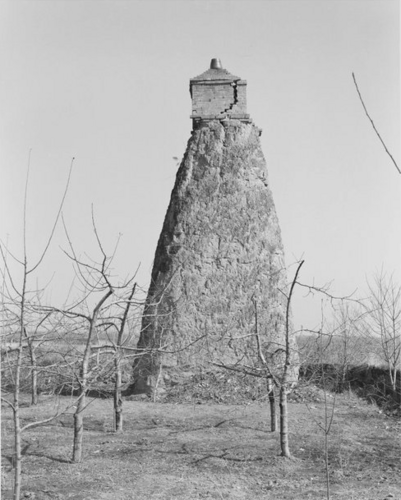 Having shown several Chinese photographers and begun my collection of Chinese photography, building on top of the Chinese collection that I had acquired from Zeit-Foto Salon, I was invited to Three Shadows Photography Art Centre in Beijing as a reviewer. Zhang Yuming was one of the photographers who brought his work for review. Zhang was a very enthusiastic man who had dedicated his life to photography, having previously been a schoolteacher. For "The Ancient Towers," Zhang had traveled far and wide in search of ancient Buddhist towers that are dotted about the landscape. In China's vastness, it might take a day to reach just one tower, using car, aeroplane, and hours of walking into the deep mountains. The towers are indeed ancient and appear as fixtures in their landscape. Yet they too are changing as they are being lost due to vandalism, treasure hunters, new developments and simply the various forces of erosion caused by time. Indeed the rate of deterioration is certainly accelerating. Zhang has captured an instant in time for each tower.
Apart from their aesthetic qualities and my admiration for Zhang's dedication, not only in taking the photographs, but also for persisting in learning and developing his skill in large-format black-and-white photography, I loved the subject matter. I come from the north of England, not far from the border with Scotland. Since childhood I have been familiar with the ancient monuments of this border region, its castles, priories, ruins of shepherds' moorland houses on windswept moors and the biggest of them all: Hadrian's Wall. Named for the Roman emperor Hadrian, this wall was built from coast to coast, 80 miles across the width of northern England, to mark the northern limit of the Roman empire. For me, it is second in scale only to the Great Wall of China, yet it is relatively unknown outside of Britain.
And so Zhang's photographs struck a chord with me on several levels. I invited Zhang to hold an exhibition and to produce an accompanying Zen Foto booklet.
Zhang came to Tokyo for the exhibition. He told me he wanted to bring his friend Cai Meng. It would the the first visit to Japan for both of them. At a late stage Zhang told me that Cai's wife had hidden Cai's passport in order to force him to bring her along, too. So we had a visit of all three of them. I always enjoyed hosting the Chinese artists on what was usually their first taste of Japan. This had been a great pleasure in the case of Liu Zheng and his partner and of Wang Ningde. In the case of Zhang, Cai and his wife, it frankly became too much of a strain at times, when goodwill was not reciprocated as I would normally expect. It made me think that some norms of behaviour that we take for granted in Japan or the UK are not shared universally. It was one of the insights that I learned when dealing with some of the artists from a country that has been through such immense transformations through our lifetimes and which has placed such pressures to the detriment of some aspects of human relationships.
9. Han Chao "Rhapsody for my Wretched Little Universe"
November 2010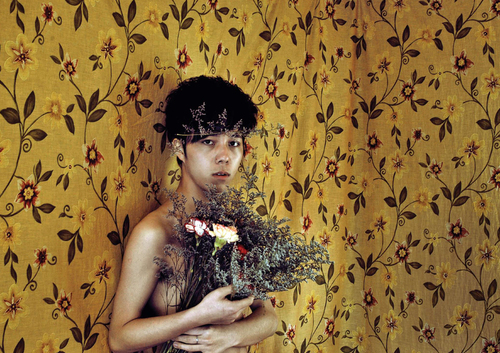 Han was another of the photographers whom I had met as a reviewer at the Three Shadows photography festival. He couldn't be more different from Zhang Yuming. Han was a young man from a provincial town who had come to Beijing to work. He had produced a document of his life as a young gay man, sharing his family relationships, lovers and friends and the beauty he found in everyday life. It was a vibrant mix of the profane and the sublime. What a brilliant title Han Chao had chosen for this work.
After the seizure by Japanese customs of our entire print run of Chin-Chin Wu's "Face to Face", we were very sensitive to the content, so we decided not to include the most explicit images in the booklet of Han Chao's "Rhapsody for my Wretched Little Universe". We produced a postcard that we would include separately for those who wanted to see the additional images.
Han Chao came to Tokyo for the exhibition. It was a pleasure to host him, and I recovered some of my enthusiasm after the stresses of the earlier visit from Zhang Yuming.
We were now preparing to move Zen Foto Gallery from its original location underground in Shibuya to a small gallery complex in Roppongi. In this new location, we would open with a review of the Chinese photographic works that we had shown over the first 18 months.
China Foto - opening exhibition for Zen Foto Gallery in Roppongi
February 2011
Artists:
Liu Zheng 「The Chinese」
Muge 「Go Home」
Liu Ke 「Still Lake」
Yang YanKang 「Buddhism in Tibet」
Rong Rong & Inri 「Yùlóngxuě Snow Mountain, China」
Wang Ningde 「Some Days」
Liu Zheng 「Dream Shock」
Zhang Yuming 「The Ancient Towers」
Han Chao 「Rhapsody for my Wretched Little Universe」
223 「My Private Broadway」
Lin Shu「Toxic」
Around this time we would also open a small space in a Beijing hutong, called Zen Foto Beijing. This was only to last a year, but the attempt to operate a commercial gallery space in Beijing was an interesting learning experience.
Soon after our move to Roppongi, Japan was to suffer terrible damage in the Tohoku earthquake and tsunami. Although we continued to work with Chinese photographers, including Muge, Moyi and Ado, the mix of artists would shift gradually to a higher proportion of Japanese photographers as we became more established and as relationships deepened with local Japanese photographers.
Mark Pearson
Founder of Zen Foto Gallery and shashasha
Related Photobooks