August 16, 12:00 – 14:00 「DAIDO MORIYAMA RECORD | MOVIE IN LONDON」Advance Tickets
August 16, 12:00 – 14:00 「DAIDO MORIYAMA RECORD | MOVIE IN LONDON」Advance Tickets
"Kiroku(RECORD)| Movie in LONDON, DAIDO MORIYAMA" is a Documentary Film about the acclaimed photographer Daido Moriyama's journey through his own legendary personal photo magazine "Kiroku" (RECORD). This documentary starts from the exhibition at Tate Modern, featuring William Klein and Daido Moriyama, which took place in London, UK in Autumn of 2012. The crew followed Mr.Daido for more than 6 months since then and revealed the secrets behind the creation process of the RECORD which also takes the audience to the journey of Moriyama's photographic adventure of the past 5 decades.
Planning/Produce: Plexus Co.,ltd.
Production: euphonic inc.
Producer: Tamikazu Iwashima (euphonic inc.) / Toshihiro Oshima (Plexus Co.,ltd.)
Director/Editing: Mitsuru Sato
Camera: Mitsuru Sato, Yuki Oro, Misa Itoi, Toshihiro Oshima
Original Music: Hidetake Takayama
Supported by : Moriyama Daido Photo Foundation, Akio Nagasawa Gallery, Place-M, NADiff a/p/a/r/t
Sales/Distribution: Plexus Co.,ltd
Starring: Daido Moriyama, Willam Klein, Akio Nagasawa, Masato Seto
2013/DVD/Color/46 min / Japanese Subtitle
DAIDO MORIYAMA
Born 1938 in Osaka. After working as an assistant for photographers Takeji Iwamiya and Eikoh Hosoe, he went independent in 1964. He has been publishing his works in photography magazines among others, and received a New Artist Award from the Japan Photo Critics Association for Japan: A Photo Theater in 1967. Between 1968 and '70 he was involved in the photo fanzine Provoke, and his style of grainy, high-contrast images that came to be referred to as "are, bure, boke" (grainy, blurry, out-of-focus) made an impact on the realm of photography. Solo shows at New York's Metropolitan Museum of Art and the Fondation Cartier pour l'Art Contemporain in Paris solidified Moriyama's worldwide reputation, and in 2012, he became the first Japanese to be awarded in the category of Lifetime Achievement at the 28th Annual Infinity Awards hosted by the International Center of Photography (ICP) in New York. The "William Klein + Daido Moriyama" exhibition together with William Klein at London's Tate Modern in 2012-13 was a showdown of two immensely popular photographers that took the world by storm.
Fondation Cartier pour l'art Contemporain Presents "DAIDO TOKYO" Introduction by Alexis Fabry+Interview with Daido Moriyama+Printing Show "À la carte" +Daido Moriyama Exhibition: Shangri-La The Increasing Pieces Special Promotion Video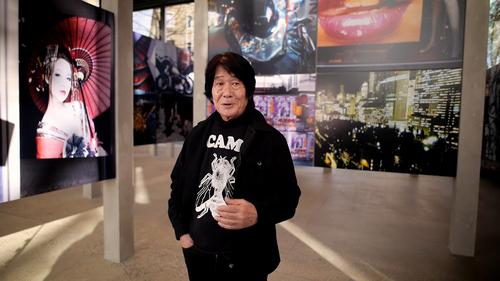 Twelve years after his first exhibition at the Fondation Cartier pour l'art contemporain in 2003, the eminent Japanese photographer Daido Moriyama returned to the foundation for a new exhibition that focuses on his recent work, titled "DAIDO TOKYO" Plexus will represent the Fondation Cartier introducing 3 pieces of film created during this exhibition. First film is the introduction by the Chief Curator Alexis Fabry, who explains the concept and the method of "DAIDO TOKYO", and the 2nd film is the Interview with Daido Moriyama himself, standing in the middle of his own works. The 3rd film is a short documentary of how the Printing Show went on at the opening of "DAIDO TOKYO" exhibition. A commissioned project "Dog and Mesh Tights" …… immersive multiscreen projection of black and white photographs plunged viewers into the commotion of the contemporary city, capturing fragments of daily life from its unrelenting urban hustle and bustle, highly acclaimed part of the show will now be showing in Japan for the first time this summer at Hyogo Prefectural Museum of Art. The new show "Shangri-La" opening August 27th- September 25th, including 200 selected works from the past to present, and a completely new series which were all shot at Kobe. Plexus will reveal the small part of this show in a short Promotion Video style, exclusively.
Production: Fondation Cartier pour l'art Contemporain
Camera/Editing: Lumento
Soundscape Design: Toshihiro Oshima(Plexus Co.,Ltd.)
Starring: Daido Moriyama, Alexis Fabry(Chief Curator), Jean-Kenta Gauthier
2016/DVD/Color/13 min / Japanese Subtitle
The Fondation Cartier
The Fondation Cartier was created in 1984 by the Cartier SA firm as a center for contemporary art that presents exhibits by established artists, offers young artists a chance to debut, and incorporates works into its collection. In 1994, it moved to its current location in a glass building designed by Pritzker Prize architect Jean Nouvel on the site of the former American Center for Students and Artists, surrounded by a modern woodland garden landscaped by Lothar Baumgarten. The ground floor of the building is eight meters (26 feet) high and glassed in on all sides.In 2011, the president and founder of the Fondation Cartier, Alain Dominique Perrin, asked Nouvel to draw up preliminary plans for a new base on Île Seguin. By 2014, the foundation abandoned plans to relocate to the island and instead commissioned Nouvel to work on the expansion of its current premises.
http://fondation.cartier.com
Tokyo Rumando Portfolio in 3 Chapters+Tokyo Rumando Polaroids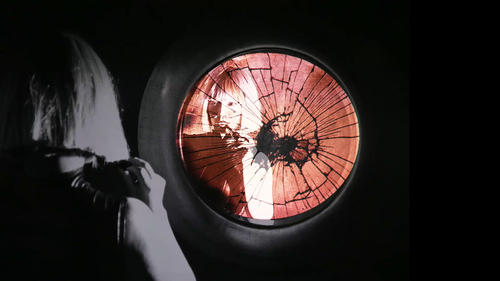 Tokyo Rumando had her latest series of works presented at the group exhibition "Performing for the Camera"(Tate Modern) featuring the "Self Portrait" artists along with the names like Yayoi Kusama, Cindy Sherman, Masahisa Fukase, Eikoh Hosoe etc, from February to June in 2016. This is an experimental Visual Portfolio of Ms Rumando's works, from an alternative point of view. Ms Rumando's series of works starting from "REST 3000 - STAY 5000"(2012), "ORPHEE"(2014) including her 3rd act of the new works, takes off from a contained room of the Love Hotel, moving into the crowds and the streets, then keep moving across the boundary of daily life roaming among the reality and netherworld, and her footsteps keeps connecting the shattered pieces manifesting into her own flesh and soul…… This portfolio is an incomplete experiment to capture the world of Tokyo Rumando from the limb of her works. A short promotion video for her latest polaroid solo exhibition at Taka Ishii Gallery Paris is also included.
Concept: Tokyo Rumando,Toshihiro Oshima
Director/Producer/Editing/Camera: Tokyo Rumando, Toshihiro Oshima
Soundscape Design/Editing: Toshihiro Oshima
Music: "Hotel California" by Nancy Sinatra (Courtsey of Asylum Records)
Starring: Tokyo Rumando
2016 / DVD / Color&Black and White / 13 min
Tokyo Rumando
Born 1980, Tokyo Born in 1980. Based on the experience of modeling for movies and magazine, started photography herself since 2005. Mainly photograph her self-nude portraits, presenting her works worldwide.
Time 12

00-14:00 / Open 11:30

Venue

VACANT / 2F 3-20-13 Jingumae Shibuya-ku Tokyo 1500001 JAPAN

Entrance

Door 1,500 yen / Adv 1,300 yen (with 1 drink)

Available tickets

100(Unreserved seat)

Organizer

shashasha / twelvebooks / PLEXUS


Ticket Information
- Advanced tickets are only available through shashasha.
- Please note that you will be asked to present your digital ticket upon entering the event. You can do so either via the screen of your smartphone or a print-out of the ticket page.